ORDER Sex Points AND GET 3 free bonus guides:
Get great sex, pure pleasure, and passion in your life.
As a veteran sex therapist, I'm frustrated almost daily by the persistent myth that great sex comes naturally, and when it doesn't, there is something wrong.
How to Claim free bonus guides:
Order the book.
Click on any of the buttons below to buy straight from your favorite retailer. (It'll open up in a new tab so this page stays open for you.) You'll only need your receipt number once your order is confirmed.
(And if you've already purchased, just enter your receipt info in step 2.)
Claim your 3 free bonus guides!
You'll get immediate access to:
The Pleasure Guide to Vibrators
For many women, a vibrator can be a handy sex aid or a fun toy. This is the no-nonsense guide for getting comfortable with new additions to the bedroom.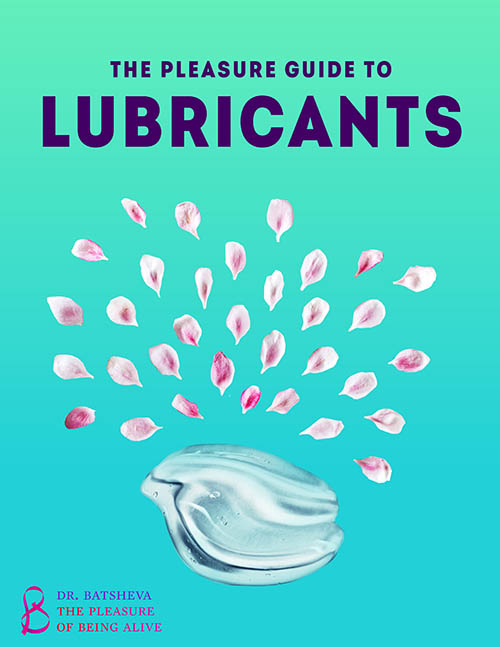 The Pleasure Guide to Lubricants
Nearly every woman will find, at some point in her life, that her body doesn't lubricate enough to make intercourse feel good or even comfortable. We'll cover all the basics in this handy guide.
The Pleasure Guide to Bring Sex Home Tonight
Get 5 easy ideas to try out at home. Start experiencing pleasure wherever you are right now. Playful ways to try out pleasure, delivered straight to your inbox.
"I know of no other book that so thoroughly presents the myriad causes and solutions to women's sexual problems;
Dr. Bat Sheva seamlessly integrates psychological, medical, hormonal, relational, and emotional causes and solutions."
—Dr. Laurie Mintz, licensed psychologist, certified sex therapist, and author of "Becoming Cliterate" and "A Tired Woman's Guide to Passionate Sex"
"A healthy sex life is as much emotional as it is psychological, and Dr. Bat Sheva gives great perspective and insight.
This book is a must-read, especially when healing from sexual wounds and/or negative experiences while trying to identify what truly impacts your sex life."
—Dr. Anna Cabeca, Triple Board Certified, OBGYN, author of "The Hormone Fix"
"Dr. Bat Sheva is not afraid to take a controversial stance or bust some myths if she believes it's going to help,
and her toolkit is both wide and deep. Much more than just a talk therapist, Dr. Bat Sheva is a take-action therapist and Sex Points will guide you from insight to implementation."
—Ian Kerner, PhD, LMFT, New York Times bestselling author of "She Comes First"
"For any woman who has ever been told 'You just need to relax,' 'You and your partner need to take a vacation,' or 'It's all in your head,'
the wisdom in these pages will come as a welcome relief and validation that the simple platitudes we often tell women are not only insulting, but just plain wrong. This is by far the best book that is currently available for women who are having problems with sex."
—Paul Joannides, PsyD, author of "Guide to Getting It On"
"Dr. Bat Sheva Marcus has written a truly comprehensive and compassionate guide to reclaiming your sex life.
Sex Points provides you with a revolutionary points system along with a detailed assessment that will help you to determine exactly what is going on, along with myriad effective solutions to address the problems and gain points. Definitely one to have on your shelf!"
—Nicole Jardim, Certified Women's Health Coach, author of "Fix Your Period"
"You shared your point system with me many years ago, and I want you to know that I have repeated it many, many times to my patients. It's awesome!"
—Kathy Herron, Certified Nurse Midwife
"Dr. Bat Sheva Marcus breaks down the root causes of sexual issues and lays out an inviting and abundant buffet of scientifically researched tools available to you to recover your sex drive and orgasm.
We have for too long simply accepted that it's normal to struggle with sex and hormonal issues, especially as we age. It's just not true. Get yourself educated and get your sex points plan together!"
—Alisa Vitti, founder of FLO Living, best-selling author of "WomanCode" and "In the FLO"
order from any of these retailers: